May 31 is acknowledged as World No Tobacco Day around the globe every year to acquaint people of the danger of tobacco and preventable deaths & diseases it causes. The following article talks about the subject matter and how quitting can work to our advantage.
As per World Health Organization, tobacco causes 8 million deaths per year, and this year's results have shown that smokers are at high chances of developing COVID-19. The data has triggered many worldwide into quitting tobacco, but many are still consuming tobacco. They need to understand how harmful the smoke is to our health.
Following are some reasons you should know how important it is to quit tobacco:-
Twenty minutes of smoking drops your heart rate and takes from hours to years to boost your health again.
Everything stinks from your body to your surroundings.
Your skin gets wrinkly, creates excessive dental plaque, and causes bad breath.
Second-hand exposure to smoke risks the health of people around you.
Children exposed to smoke are prone to asthma, ear infection, and many other diseases.
Smoking can cause erectile dysfunction, increases chances of infertility, and diminishes sperm count.
You are promoting the tobacco industry, exploiting farmers by exposing them to nicotine, and pedaling them towards death.
Smokers have 22 times higher chances of developing lung cancer and other diseases like COPD, asthma, etc.
Tobacco consumption doubles the risk of developing tuberculosis from a mild stage to a severe stage.
Smokers are at chances of getting hearing problems and vision loss if left untreated, etc.
Quitting is a tough job once you are addicted to it. But we know how vital it is to stop considering the above factors and various others.
This year WHO wants to work around the theme "Commit to Quit" and support the quitters in various ways. From tobacco cessation advice, toll-free quitlines, medication to mobile applications. You can opt for any of the options from their 'Quitting Toolkit' or join campaigns, seminars, events, etc., to start working on your addiction and spread awareness through social media, posters, etc.
They have also released some quick tips to curb your cravings.
Try to delay as long as possible before giving in to the temptation to smoke again.
Whenever you feel the urge to smoke, take deep breaths till it passes.
You can drink water whenever you crave tobacco.
Try to distract yourself by engaging yourself in some other activities.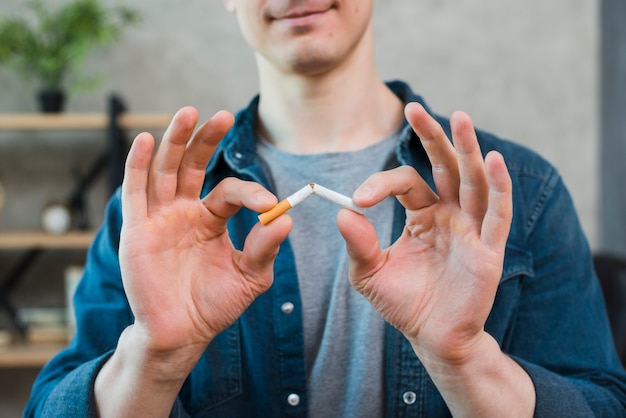 Besides affecting your health, it also affects your social life. People will stop mingling with you, you might not be productive at work, and you won't be setting an ideal example for the kids.
Hence, pledge right now to never touch tobacco again in your life and also stop others from doing the same.